Who we are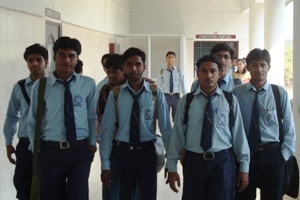 Established In - 2007
College Code - 310for B. Tech & MBA courses.
College Code - 493for diploma course.
Affiliated with: Uttar Pradesh Technical University (UPTU), Lucknow. for B. Tech & MBA courses.
Affiliated with: Board of Technical Education (BTE-UP), Lucknow. for diploma course.
Approved by: All India Council of Technical Education (AICTE), New Delhi
Dr. Rizvi College of Engineering & Management is part of Rizvi Group of Institutions. This located in Karari town that comes under Kaushambi district of Uttar Pradesh state. This place is very old renowned town in Indian History. The Institutions is located at approx. 50 km. distance from Allahabad. In Karari, the campus of Rizvi Group of Institutions has spread over a vast area of acres of land in a serene and pollution free atmosphere.
The Institution has an impressive building which is located in a spacious campus. The Institution provides all the ultra-modern facilities for students.
Against Ragging
By the Honorable Supreme Court prohibition of ragging Act 1999, ragging within or outside the institution campus is strictly prohibited. Whosoever directly or indirectly commits, participates in, abets, or propagates ragging within or outside the institution campus shall on conviction, be punished with imprisonment for a term up of 2 years and / or penalty, which me extend to ten thousand rupees. Any student convicted of an offence of ragging shall be dismissed from the institute and such student shall not be admitted in any other educational institution for a period of five years from the date of order of such dismissal.
Download Anti-Ragging Booklet
Welcome to DRCEM. We provide
Quality Level

education.

We are growing successfully from last seven years to provide the quality level education in professional course.
Meet Our Management
Fallowing are given some brief about the management of Institution. In which governance institution is being managed. Those are using their talent, knowledge & wealth to provide the good facilities & quality level education for students future.